Brandon Barbarians Rugby CLub
We are a highly social club offering players a place to come together to continue to play the game they love.  Founded in 1981, the upcoming 2021 season will mark the 40th anniversary of Brandon's senior rugby team.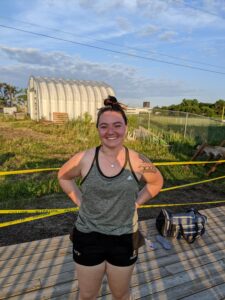 Mary Hughes
Our featured player this week is from our ladie's team, Mary Hughes! Check out her interview below!
When did you start rugby?
Grade 9 high school, 2010
Where did you play?
Dauphin, u18 provincial, and with the Brandon Barbarians!
Favourite position to play?
Lock 
Current position on the Barbs?
Lock or Centre depending on the line up
Favorite Barbs social event?
Rookie Night
Favourite drink?
Moscow Mule, nowadays  
What brought you to rugby?
Trying out something new and a cute boy!
Favorite cheese?
Smoked Gouda
What are you known for on the Barbs?
Team mom
What's your goal on the Barbs this year?
Finish a try instead of only assists!
Keep up with us on social media