Shopping Cart
Your Cart is Empty
There was an error with PayPal
Click here to try again
Thank you for your business!
You should be receiving an order confirmation from Paypal shortly.
Exit Shopping Cart
2018 REGISTRATION LINK!!!
In case you missed our registration night this is the link to click on to register with our club for the 2018 season: 
https://reg.sportlomo.com/rugbycanada
 Reminder, you will need to be registered with our club before you can even practice!
2018 Executives Announced - AGM
President - Brent Allum
Vice President - Mike Loney
Secretary - Jessica Fitzpatrick
Treasurer - Haley Lobreau
Fields - Owen Hagan
Junior Rugby - Danny Smith
Kit/Senior Player Rep - Tyler Jury
Social Rep - Ashley-Justine Bonnett
If you are interested in helping out with executive initiatives in any way, contact any one of the members and we will get you in touch with the right people!
COACHING CLINICS UPCOMING: 
Contact Rugby Manitoba at 

[email protected]

 for more information on how to register for these programs or if you are interested in getting rugby programming in your area please contact our office at 

[email protected]
 click the image above to register.
Rugby Manitoba Coaching Clinic Registration now open!
Competition Intro – March 12 & 13 – 8:30 a.m. – 5 p.m. – Winnipeg
Community Initiation – March 19 – 9 a.m. – 5 p.m. – Brandon
Community Initiation – April 9 – 8:30 a.m. – 4:30 p.m. – Winnipeg
Sevens Rugby Training – April 10 – 8:30 a.m. – 4:30 p.m. – Winnipeg

For more information please visit our website at RugbyManitoba.com or register at coach.rugbycanada.ca
LADY BARBS win the 2015 Division 1 womens provincial Championship over the Winnipeg Wasps. It was a heck of a game with the ladies trailing for the entire game until the last play before the whistle blew with Kiya Townsend barrelling over the line to win by 4 points.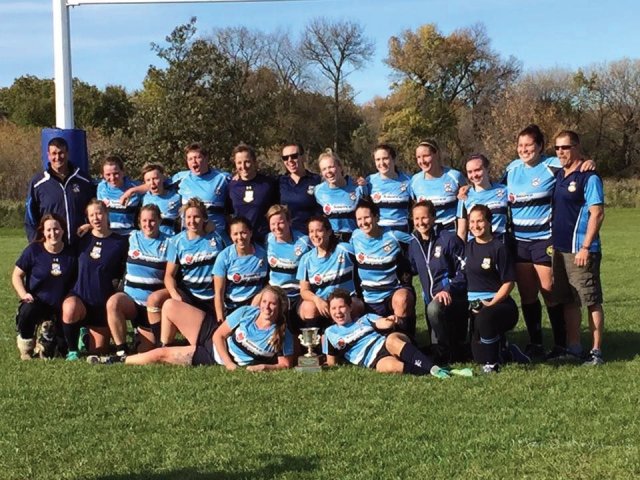 Congratulations to the Saracens for securing the division 2 championship over the Wanderers, and the Assassins men for hitting the Division 1 championship over the U of M Wombats. 
Rugby Manitoba High Performance Academy:
The following information is in regards to the open sessions of the  Rugby MB HP Academy for the 2013-2014 year.  There will be two Academies one held in Western Manitoba and the other in Eastern Manitoba.  The Western Academy venue will be in Brandon and possibly Souris if needed.  The Eastern Academy will be held mainly at Red River College in Winnipeg.  Schedules are subject to change.
Western Academy

October 20, 2pm-4pm Vincent Massey HS (Brandon)
November 24, 2pm-4pm Vincent Massey HS (Brandon)
January 5, 2pm-4pm Vincent Massey HS (Brandon
January 26, 2pm-4pm Vincent Massey HS (Brandon)
February 23, 2pm-4pm Vincent Massey HS (Brandon)
March 23, 2pm-4pm Vincent Massey HS (Brandon)                       
Eastern Academy
October 27, 11am-4pm RR College (Winnipeg)
January 5, 11am-4pm RR College (Winnipeg)
January 26, 11am-4pm RR College (Winnipeg)
February 23, 11am-4pm RR College (Winnipeg)
*Schedule/Locations Subject to Change!
Anyone not contacted (identified) is more than welcome to attend our open sessions, which will start at 2pm.  These are players looking to improve their skills and aspire to get to the next level.  Cost is $25.00 each session.
Players will need both outdoor and indoor training gear.  Please make sure you bring your own fluids and supplements with you. 
If anyone has any questions, please don't hesitate to contact me.
Regards,
Brian Yon
Rugby Manitoba High Performance Director
To All Rugby Manitoba Clubs and Members,
The Brandon Barbarians RFC would like to formally invite all clubs, members and fans out to join us on Saturday October 5th to celebrate the Rugby Manitoba Championships. We as a club take a great amount of pride in hosting events and would just like to outline the agenda for the day and some general guidelines.
The canteen, BBQ and beer garden will open at Noon until 8pm. The entire park is licensed and this means that you can consume your beverage anywhere within John Reilly Field. We do ask that no outside alcohol be brought in to the facility (unfortunately this includes champagne for celebrations) and that you do not leave the park with open alcohol.
Parking is available in our usual parking lot as well an overflow parking lot across the street that will be clearly marked. These parking lots will be regularly patrolled to ensure MLCC compliance and we ask that you all respect this.
With the amount of spectators and players expected and the beer garden being extended to include the entire park we also ask that no dogs or pets be permitted on the field. This is a liability issue and on such a busy day we do feel that it would be inappropriate to have dogs there
As Rugby Manitoba stated the first game of the day will Kick Off at 11:45. This game will take place on field #2 (the south pitch) while the remainder of the games will take place on Field #1 (which is our typical match field). The games are scheduled to kick off at 12:30, 2:30 and 4:30 respectively. We would ask that all teams be ready five minutes early to allow time for the National Anthem. For the presentation of the anthems, please line up on your half of center on the 15 yard line facing the crowd, while the officials will line up in between the two teams.
Field two will be available for warm up after the initial match, water is available in the building in our parking lot via an outside tap, and change rooms will be located between the two fields.
Rugby Manitoba awards presentation will be hosted shortly after the final match of the day, this will take place on the deck in front of field #1.
Sandy Donald and Scott Harland will be the Match Commissioners for the day and they will ensure that games start on time and that celebrating teams clear the playing field in a timely manner.
For any teams or individuals spending the night in Brandon to celebrate the end of another rugby season, we have arranged a social for the Saturday night at the Roadhouse Night Club located in the Canad Inns. Tickets will be available to purchase at the beer garden at a cost of $5.
Finally congratulations and best of luck to all teams that have qualified for their respective final, we are looking forward to seeing everyone this coming Saturday. And if you have any questions or concerns please feel free to contact me directly
[email protected]
or 204-573-2772.
Regards,
Jon Fitzpatrick
President BBRFC
204-573-2772
See everyone Sunday. Division II men kicks off @noon against the Wombats, the women will be playing an intersquad game @2pm (as the Wombat women had to reschedule), and Division I will kick off @ 4pm. 
The fields will be nice and soft due to the rain! Lets hope for a sunny day on Sunday!
/